FEBRUARY 2016
'We have never had a dog that smoked in bed and set fire to blankets': Hotel's hilarious notice that explains why DOGS are more welcome than humans
The notice from 'the management' believed to be at San Francisco hotel
They highlight behaviour shown by customers as why dogs are allowed
Ends by stating if dog can vouch for human, they will be permitted to stay 
A hotel in the U.S. has written a witty notice about why dogs are allowed to stay – claiming they are better behaved than humans. As guests check in at reception with their pets, they are told in no uncertain terms that 'as long as your dog can vouch for you, you're welcome too.' The hilarious notice has been shared on Facebook and Twitter, showing that at this particular hotel, it is very much a dog's life.
For the full story click HERE
---
How black and white cats get their patchy fur – and why it could help explain health defects
Research suggests distinctive piebald patterns on cats, horses and mice are caused by cells dividing too slowly in the womb. Black and white cats get their distinctive colouring because of the way their cells develop in the womb, research suggests. Scientists said cats with a two-tone coat do not have enough pigment cells because the cells divide too slowly. The research also found that cells move randomly rather than following instructions, so in animals without enough pigment cells, colour is distributed in random patches.
For the full story click HERE
---
Pampered Pets: Inflamed eyes on your pet?
PAMPERED PETS Our vet David Grant works his animal magic Q MY ginger tomcat's right eye recently became red and inflamed.
His pupil had shrunk in size and he seemed miserable. My vet said that without treatment he might lose his sight. What could have caused this? 
A WHAT you describe is anterior uveitis, an inflammation of the iris and surrounding structures. The condition can be painful which would account for the cat's mood. Your vet will have prescribed drops to dilate the eye and reduce inflammation. This is the standard treatment. Without prompt treatment your cat could lose his sight in that eye. Many cases left for as little as 24 hours have resulted in this. In the short term, glaucoma – an increase in the internal eye pressure – is a real danger as is retinal detachment. In the long term, some cats can develop cataracts. It is worthwhile trying to find out the cause and treat it if possible.
For the full story click HERE
---
How Your Pet Can Influence Your Love Life
Men with adopted dogs, take note: A survey of pet owners reveals animals can influence who you date.
The saying "love me, love my dog" may have some basis in reality: A new study suggests that pets can influence how we perceive potential dates. That's why Saturday's Weird Animal Question of the Week is taking the author's prerogative to ask: "Could your pet decide your future mate?" Pets "add some twists and turns to our love lives," says study co-author Justin Garcia, an evolutionary biologist at the Kinsey Institute at Indiana University and scientific advisor for the dating website Match.com. (Read "Dogs Are Even More Like Us Than We Thought.") In 2014, Match.com and the retailer PetSmart surveyed about 2,300 single pet owners in the U.S. who had registered on Match.com. Of that number, 1,210 responded, 61 percent of whom were women. Sexual orientation was not questioned in the survey.
For the full story click HERE
---
Truffle trackers: how dogs and humans help ecology and gastronomy in Oregon
Hunting for the underground fungus delicacy with dogs ensures ripe truffles and minimum environmental impact – and it's a great way to bond with a canine.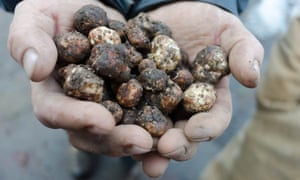 Jason Swindle has already learned the best and hardest lesson that his dog can teach. "It's about trust. River does the craziest things when we're out here – she charges up cliffs or hillsides – and I have really just had to learn to trust her." This trust is perhaps even sweeter than the prize she helps him find beneath the forest floor: truffles. River's talent for truffle hunting – and the tail-wagging joy she finds in it – are more remarkable if you know that she only learned how to do it two years ago, when she was six. Swindle says that any dog can learn at any age. In fact, he says, "if we'd tried when she was younger she may not have done as well". Before her lessons, River was an ordinary family pet. Now she's the heart of a growing business, Hound Found Oregon, in which together they search out truffles for sale, survey private land for them and lead curious gourmands out on forest forays.
For the full story click HERE
---
Watch more than 100 sausage dogs enjoy 'walkies' at Barry Island Beach
These windswept dachshunds are the cutest thing you'll see all day
It may have been wet and windy, but that didn't stop these adorable sausage dogs from enjoying their walkies on Barry Island Beach.
There were wagging tails all round as more than 100 dachshunds and their owners enjoyed an afternoon stroll along the sand, not deterred by the damp weather forecast.
Organiser Charlotte Baldwin said: "It was showering as we drove to the beach, but when we got out of the car, there was actually some blue sky."
For the full story click HERE
---
CANADIAN COMPANY SELLS FOUR-LEGGED PANTS FOR DOGS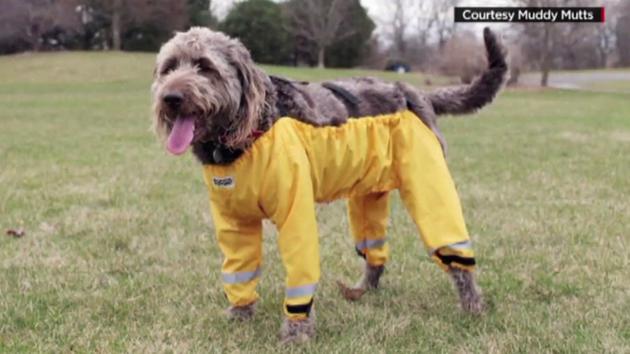 A Canadian dog wear maker is trying to convince people that man's best friend should wear pants.
A 19-year-old student in Belgium said his girlfriend's dog Rocky got him thinking how dogs would look in pants. He posed the question online and people went nuts joking and debating the question of not just should dogs wear pants, but how they would appear in them.
So should dogs wear pants on just their hind legs or on all four legs?
Tim Skelly, owner of Muddy Mutts, tried to settle the debate by saying a pup should wear pants on all four legs. He and his wife sell waterproof nylon waders that go for $50 in the U.S.
For the full story click HERE
---
Dogs can read human emotions: Canines recognise when people are feeling happy or sad, even if they've never met them
Scientists tested dogs' ability to read the emotions of human strangers 
They were able to combine facial expressions with the tone of voice
Dogs were also highly attuned to detecting emotions in other canines
Results prove dogs recognise emotions in all humans not just their owners
Dogs really are man's best friend. Scientists have shown for the first time that the animals are masters at recognising emotions, and their mood-reading ability does not just apply to other canines – it also extends to humans. The insight, from scientists at Lincoln University, makes dogs the only creatures to equal the ability of people to 'tune into' another species.
Vet Professor Daniel Mills, who led the study, sat 17 pet dogs in front of a screen and flashed up two images of the face of another dog – one in which it looked playful and one in which appeared angry.
For the full story click HERE
---
Overweight, unhealthy pets problems directly linked to overweight, unhealthy owners
 A CRISIS in overweight, unhealthy pets is directly linked to their unhealthy owners and their lifestyles, top vets have warned. And they are calling on owners to take action now amid fears that there will be more overweight pets than healthy pets within five years. The recently published pet dietary report, compiled by Dr Pamela Mason, suggests obese dogs are three times as likely to have obese owners as non-obese dogs. It also found that owners not understanding their pet's weight was a major problem in pet weight management while the risk of obesity in pets is significantly associated with owner income as owners in the lowest income bracket are more likely to have obese dogs.
Currently research shows 45 per cent of dogs and 40 per cent of cats are overweight which is mainly due to a lack of exercise and overfeeding, mirroring the lifestyles of their owners. Veterinary surgeon and managing director of Swindon company Pets' Kitchen Jenny Philip said she sees the effects of lack of exercise, overfeeding, poor nutrition and not adapting the diet of ageing pets accordingly in her practice every single day.
For the full story click HERE
---
13 Fictional Pets From Your Childhood That You'd Still Love To Own Even Now
I love my dog more than any man I've ever loved, and probably on an equal playing field for any child I may someday have. I'm sure for those of you owners of pets out there, you feel very similar (I'm looking at you Mother of Cats, Taylor Swift). But before I met my dog soulmate, there were other pets whose fur I longed to run my hands through and whose bellies I wanted to rub until they made that leg spasm movement because they just can't take it anymore. And, yes, they were all on television and movies. And yes, some of them were animated. But that doesn't make them any less badass. You might be shaking your head, but these fictional pets stole your heart, and I wouldn't be a very good pet owner if I didn't outline some of the best puppies, kittens, horses, etc, etc. from your television-enhanced childhood.
For the full story click HERE
---